B-arn-S Architects is a dynamic, research-driven, socially and environmentally-minded architectural team.


---
︎ ︎ ︎

* Principal Christian Stayner, AIA, NCARB, LEED-AP is registered as an Architect in Arizona, California, Colorado, Florida, Hawaii, Nevada, New Mexico, Oregon, Maryland, and Texas (as Architecture Business BR-4848). Stayner Architects is registered with the CA DIR as a Public Works Consultant, and is certified as a Small Business (Micro) Enterprise, Certified LGBTQ Business Enterprise®, Emerging Business, and Disadvantaged Business Enterprise in various jurisdictions. Please contact us for additional information. We are "B-arn-S Architects" in California, California, Texas; but "B-arn-S" in Florida, Oregon, and Arizona.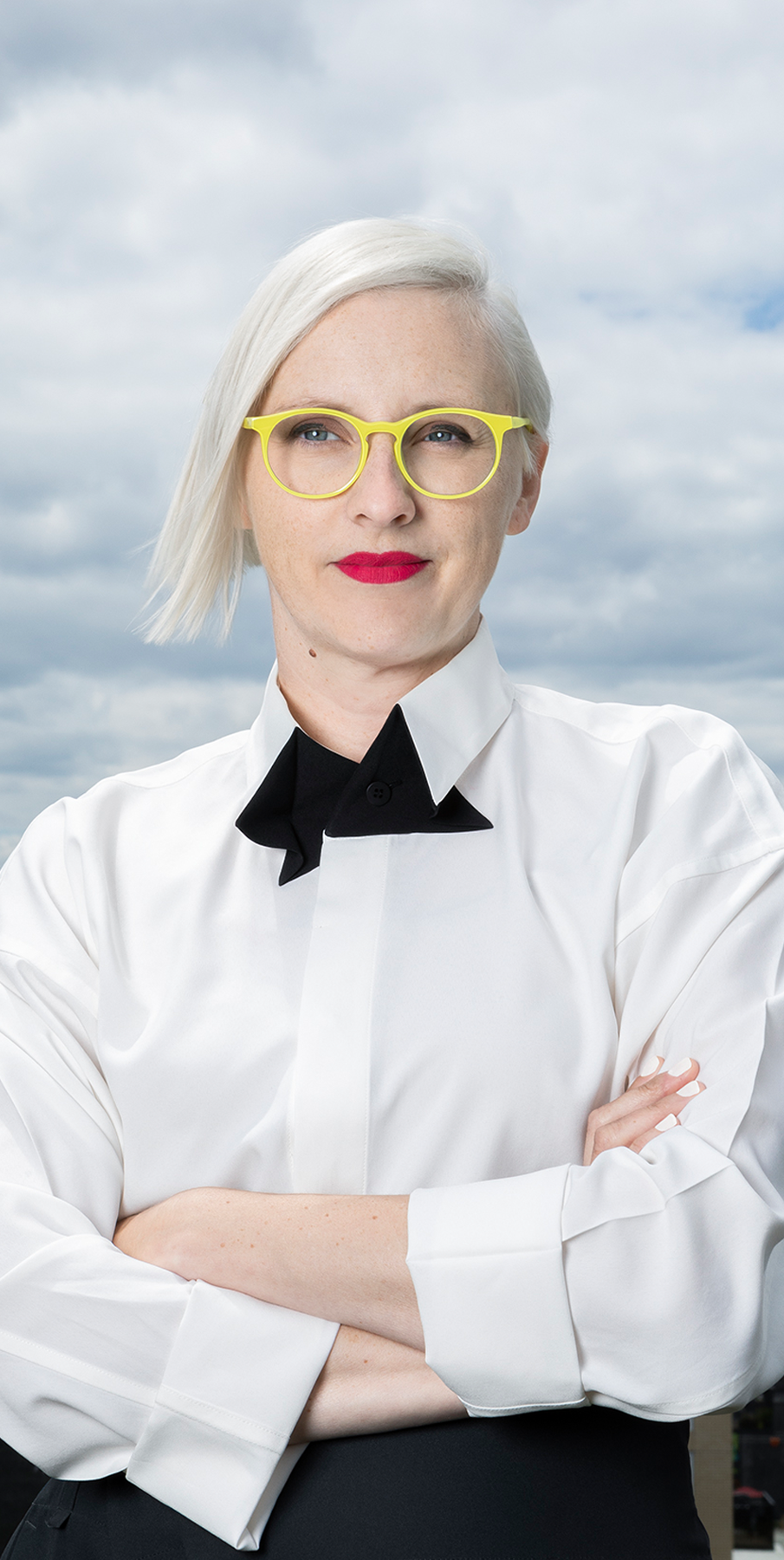 Jennifer Bonner (she/her)
Jennifer Bonner, a Principal of B-arn-S Architects, received a Bachelor of Architecture from Auburn University and a Master of Architecture from the Harvard University Graduate School of Design. Jennifer (b. 1979, Alabama) is known for her work around sustainability driven by material innovations. This includes mass timber, her signature material, as well as panelized and precast tilt-up concrete systems. Jennifer's work emerges from radicalizing default construction logics to produce unexpected new forms and results.
Her work – such as the widely-published Haus Gables project on the Atlanta Beltline, Best Sandwiches, Office Stack, and Blank House in Portland, Oregon – is striking and highly experimental. At the same time it is produced from a precise understanding and control of construction logics, material limits, and manufacturing logistics. This is evident in her recently-published book, Blank: Speculations on CLT, co-edited with London-based structural engineer Hanif Kara OBE of AKT II.
Jennifer is a recipient of the 2021 United States Artist Fellowship, the Architectural League Prize for Young Architects + Designers, Emerging Voices Award (AIA/ Young Architects Forum), Progressive Architecture (P/A) Award and Next Progressives (Architect Magazine). Her creative work has been published in architectural trade publications including Architectural Review, Metropolis Magazine, Domus, Gray, Azure and Wallpaper*, as well as, more experimental journals including Pairs, Log, DAMN, PLAT, Offramp, Room One Thousand, Flat Out and MAS Context.
She is the author of A Guide to the Dirty South: Atlanta, editor of Platform: Still Life, and guest editor for the contemporary art magazine, ART PAPERS: special issue on architecture and design of Los Angeles. Jennifer's work has been exhibited at the Royal Institute of British Architects, National Building Museum, Yve YANG gallery, pinkcomma gallery, Yale Architecture Gallery, Istanbul Museum of Modern Art, Boston's Rose Kennedy Greenway, and the Chicago Architecture Biennial.
Born in the South, Jennifer studied at Auburn's Rural Studio with the late Samuel Mockbee. Her undergraduate thesis project, the Cedar Pavilion in Perry County, Alabama, received an AR Award for Emerging Architecture (2005). While at Harvard's Graduate School of Design, she was awarded the James Templeton Kelley Prize for her project Assemblage of Twins. She also worked in London and Istanbul for two Pritzker Prize laureates, Norman Foster and David Chipperfield.
Jennifer was an Associate Professor of Architecture at the Harvard Graduate School of Design from 2015-2023 where she taught design studios and courses such as "Representation First (!!!)" focused on reconceptualizing architecture through engagement with contemporary visual culture. Previously, she held teaching positions at Georgia Institute of Technology, Woodbury University, and Auburn University.
Germane Barnes (he/him)
Germane Barnes is a Principal of B-arn-S Architects, a tenured Associate Professor, and the Director of the Masters of Architecture program at the University of Miami School of Architecture where he directs the Community Housing & Identity Lab (CHIL), a testing ground for the physical and theoretical investigations of architecture's social and political resiliency.
Germane's (b. 1985, Chicago) research and design practice investigates the connection between architecture and identity, examining the discipline's social and political agency through historical research and design speculation. By mining architecture's social and political agency, he examines how the built environment influences black domesticity – especially in spaces such as the kitchen, the front porch, laundry, and dining room.
His work has been featured and acquired to the permanent collections of international institutions, most notably, Museum of Modern Art, MAS Context, Milan Design Week, San Francisco MoMA, LACMA, The Art Institute of Chicago, The New York Times, Architect Magazine and The National Museum of African American History and Culture where he was identified as one of the future designers on the rise. He was selected in the inaugural cohort of The Dorchester Industries Experimental Design Lab created by Theaster Gates and sponsored by Prada. Most recently, his project, Griot was widely published, as a participant in Biennale Architettura 2023, Laboratory of the Future.
In 2021, Germane was awarded the Wheelwright Prize from the Harvard Graduate School of Design, in 2022 the Rome Prize at the American Academy, United States Artist Fellowship, and the Architectural League Prize, and in 2023 the Arison Award from the YoungArts Foundation. His work has been shown at the Museum of Modern Art's ground-breaking exhibition "Reconstructions: Architecture and Blackness in America," as well as the 2021 Chicago Architectural Biennale. He is on the Boards or Advisory Committees of Oolite Arts in Miami, Black Reconstruction Collective, AIRIE (Artists in Residence in Everglades), among others.
Germane received his Bachelor's of Science in Architecture from the University of Illinois at Urbana-Champaign. His Master of Architecture is from Woodbury University in Los Angeles where he was awarded the Thesis Prize for his project, Symbiotic Territories: Architectural Investigations of Race, Identity, and Community. Germane is represented by the Nina Johnson Gallery in Miami.
Christian Stayner (he/him)
Christian Stayner, a Principal of B-arn-S Architects, (AIA, NCARB, LEED-AP) received his undergraduate degree from Harvard College in 2005 and Masters of Architecture from the Harvard University Graduate School of Design in 2008. His work primarily focuses on cultural projects across several building typologies for organizations that work through arts to produce community change. Christian's interest in the architect-as-developer model of practice enables a unique project-focus specialization in adaptive re-use and urban renewal. Additionally, as a licensed general contractor, he brings a builder's perspective to the design approach for each project.
Christian (b. 1981) is an award-winning, idea-based architect from Southern California whose work has been featured in Art Forum, Wall Street Journal, Architect Magazine, Architectural Record, AD Italia, Dwell, Vogue US, Los Angeles Times, Metropolis Magazine, Wallpaper* and Architectural Digest. Practice-based awards and honors include "Developer of the West" (2021), "Top 50 Interior Architects" (2020), and "Best of Design in Restoration & Preservation" (2020) from The Architect's Newspaper. His work has been exhibited at several institutions, including the Venice Biennale and the Istanbul Museum of Modern Art. He was a finalist for the inaugural Qui. Inter-Atlas Prize by the Galleria d'Arte Modernae Contemporanea in conjunction with the Stedelijk Museum voor Actuele Kuns and previously, held residencies at the Center for Land Use Interpretation, Film Study Center of Harvard University, and the MAK Center Los Angeles, among others. He was awarded the 2013 William Muschenheim Fellowship in Architecture at the University of Michigan, as well as, the recipient of the congressional-mandate Truman Scholarship at Harvard College.
As the Los Angeles-based Principal of B-arn-S, Christian is central to navigating complex projects through property acquisition, land use entitlements, state and federal environmental reviews, fund-raising, engineering design, landscape restoration, and building permit approvals. At B-arn-S he leads constructability, focusing on alignment of the building strategy with the institutional mission and budget for a variety of clients.
As a full-service architecture firm, Christian's current and former clients include LA MoCA, Los Angeles Municipal Art Gallery, Opa-Locka Community Development Corporation,Young Musicians Foundation, Deep Springs College, Big City Bricks, and the Hollywood Food Coalition.
Christian is a licensed architect in California, Hawaii, Arizona, Texas, New Mexico, Oregon, Nevada, and Florida. He is a licensed General Contractor (Responsible Managing Officer) in California (553495) where he runs Architect-Led Design-Build (ALDB) projects up to $10-15M. He also holds a Certificate from the National Council of Architectural Registration Boards, providing for licensure reciprocity across the US, Canada, and Mexico.
Previously, Christian was a Professor of Architecture at the University of Michigan and Arizona State University. During that time his research and teaching focused on natural resource extraction and conservation, alimentary design, and incorporating non-visual sensorial experiences such as smell and texture into architecture. In 2010, Christian ran WUHO Gallery, a university-run gallery connected to LACE (Los Angeles Contemporary Exhibitions) located on Hollywood Boulevard. Along with Jennifer Bonner, Christian was a founding faculty of the Graduate Architecture Program at Woodbury University where they established the contemporary architectural theory curriculum under a five-year, $6M grant from the Department of Education as designated Hispanic-Serving Institution.